10th January 2020.
So far, the longest flight I've ever been on was probably to Cyprus and the longest time I've been away from home on my own was for 7 days.
Now it's 21 days until I catch a ~13-hour flight from London to Kathmandu, and my return flight home won't be until 3 months later.
______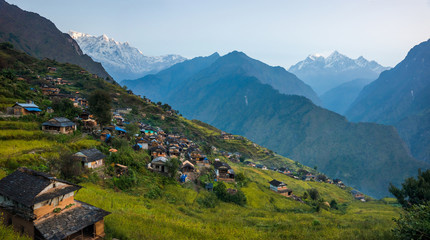 Last September I was researching different things I could do on my gap year and all I knew for certain was how badly I wanted to travel and volunteer. At some point I came across ICS – the International Citizen Service – and I thought 3 months sounded like a long time and that living with a host family for all that time seemed daunting, but I wasn't going to pass up on the opportunity. That night I applied online, and 3 days later I received an email asking me to call them so that we could move my application forward. I found out I had been passed onto Raleigh (as I didn't have a preference as to which of the ICS organisations I went with) and just 3 days after that, I got an email inviting me to one of three assessment days at the Raleigh International office in London three weeks later. (3 really must be the magic number…)
The assessment day was great – not very formal, plenty of time to chat to the other applicants and a pretty friendly atmosphere. It's important to know that you're not in 'competition' with the others, because even if everyone got accepted, there would be enough spaces on the programme. We were split into two groups of about 12. The half that I was in did our interviews in the morning (which I was happy to get done and dusted) and then assessed group activities after lunch. We were there for just under 7 hours altogether, which sounds long but it was absolutely fine. The interview was pretty long in itself, but I felt like it flew by so fast! The assessed activities that we did in groups were more fun than you'd think and the thought of doing a presentation in front of everyone seems much worse in your head than in practice.
My assessment day was on a Tuesday, and on the Thursday of that week I received the email to say I had been successful! Amazing feeling. This was also when they let me know that I was on the Nepal placement – and since they were mainly recruiting for Tanzania, Nepal was an unexpected surprise.
The next step was the 3-day pre-departure training event (PDT) which was based in Conisbrough near Doncaster. It was a stressful journey for everyone to get there because it was the peak of the floods – but we made it. The activities weren't bad at all – some pretty thought-provoking – and even the presentations were quite relaxed. I didn't find them the easiest few days, but the times when I felt really comfortable and at ease made up for any low moments I had there. I met people that I got along with really well and the whole weekend was scattered with 'energiser' games and group discussions which, even in the moments where none of us felt we had the energy, always helped us get going again. A few standout moments were exploring the whole activity centre one evening, having a laugh doing a yoga session and having to open up to each other about pretty deep things (which proved to me how freeing it feels to be even just a little bit vulnerable)!
______
That was in November last year. Now we're here in January, frantically fundraising and trying to tick things off the kit list and fitting in the last couple of vaccinations. And, of course, getting more and more excited by the day! Living with a host family in rural Nepal for 3 months and working with the community on a water sanitation & hygiene project is one of those things you can only imagine – because no matter the amount of preparation, I won't truly have a clue what it's like until I'm there in the thick of it. I can't wait to be in discovery mode now!
http://www.justgiving.com/fundraising/sophiekrol